History
Dig or Die
The Dig or Die Volleyball Classic was started when the Fort Collins Club opened at the present location in 1984. Jim Shackelford was a manager at the club and was the original tournament director. The event was run as a Fort Collins Club volleyball program for many years and was taken over by Diane Johansen when Jim moved away. Diane was the program director at the Fort Collins Club for many years and the tournament was under her direction with an ebb and flow of participation. Rusty was originally one of the Men's AA players that competed on the sand court after his participation at CSU in the Men's Volleyball program. During Diane's tenure as tournament director he became an integral staff member along with Woody Boyd, Holly Wright, Dot Dickerson, Margie McGrane and Andy Johansen. The Wright Life was a sponsor of the tournament from the 2nd year it was run through 2016. When Diane left The Fort Collins Club, Rusty and Holly started running the Dig or Die as an independent event with the Fort Collins Club as a sponsor. At this point the back end administration of the event was taken over by Rusty and Holly with a lot of help from the Scott Family. In more recent years registration and the logistic work was handled by Holly Wright and The Wright Life with Rusty integrally involved in managing the budget, tournament direction, staff recruiting and net management. For 32 years the Dig or Die was a reunion of players and teams that had participated annually, of old friends that staffed the tournament that looked forward to working the weekend in support of the local volleyball community, and renew relationships with sponsors that had supported us for so many years. We were able to donate money to the McKinney Jones foundation through the Poudre School district and most recently to a local charity that raises money for kids to attend volleyball programs. I look forward to the future of the Dig or Die under new management and the expansion of the divisions that will take it to the next level. Thank you for dedicating it to Rusty Scott. I am sure he is will be smiling down upon us while everyone enjoys the tournament for years to come. - Holly Wright
Rusty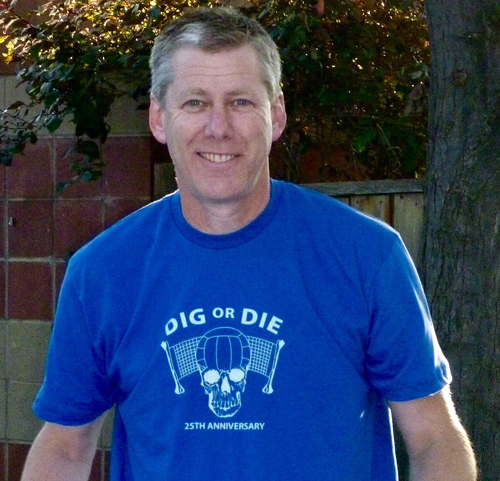 Russell (Rusty) Alan Scott was born in Chillicothe, Ohio on November 8, 1960 the youngest of four children to Virgil and Janet Scott.
The family moved to Scottsdale, AZ in 1964. As a Boy, Rusty was involved in cub scouts, church youth groups, sports, and band.
The family relocated to Ft. Collins in 1975 where Rusty spent the rest of his life. He attended Poudre High School where he played tennis, ran track, and played baritone in the marching band.
He entered CSU in 1979 - he graduated with a degree in wildlife biology and continued working at CSU for over 32 years ultimately serving as Associate Executive Directory of Academic Computing and Network Services.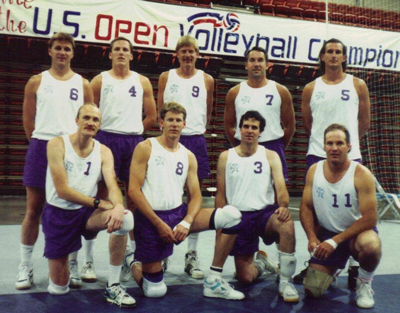 During college, Rusty found a passion for volleyball. He played at a competitive level for many years and was proud to be a Thunder Chicken. Rusty became extremely active in the volleyball community in Ft. Collins. He was part of the Dig or Die Classic Tournament at the Fort Collins Club for 30 years and he played in and ran many other tournaments and leagues. He eventually served as assistant coach for the Rocky Mountain High School girls volleyball team - a highlight for Rusty. He loved being able to infulence young volleyball players and was honored to work with the very best of coaches. As a result of his volleyball career, Rusty decided that Advil was a legitimate food group.
He met Joanne - the love of his life - at, guess what - a volleyball tournament in 1991 and they married in 1992. Rusty and Joanne have 3 children: Cooper, Jenna, and Kami. Rusty was devoted to his family as a son, husband, brother and uncle. Even so, Rusty had a passion for life itself and was uniquely able to invest fully in many activities and people. He served as a Cub Scout Leader; loved fly fishing and made for the mountains any chance he could with his special group of fishing buddies; he was part of the Vineyard Church family; enjoyed photography and gardening with his Dad; listened to music and played the guitar. He was loved as a neighbor and great friend to many people.